Balustrades for Melbourne Homes & Businesses
A balustrade is more than just a requirement to comply with the relevant building codes; it can be a significant architectural component of your new staircase. Get the right balustrades from us at Going Upstairs to bring out the best of your interiors.
We supply and install balustrades for properties across Melbourne and Victoria. We offer these balustrade types:
Wrought Iron
Glass on Stainless Steel Stand Offs
Glass Rebated Into Stringers
Glass panels raking down the staircase create a sleek, minimalist look, and can allow light to flow through your house giving a more open feel.
Balustrades We Provide Include: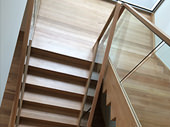 Glass Rebated in String
Glass balustrade rebated into the timber string offers a neat and encased appearance to your staircase, perfect for a fuss-free look that complements a range of styles.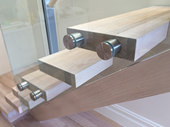 Glass on Stand offs
Steel stand-offs allow for a sleek, minimalist look whilst still maintaining a secure fixing to your stair. They offer a contemporary touch to your interiors.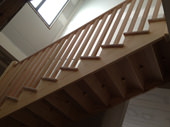 Timber
Classic timber balustrading can be stained to match your treads and strings. We offer a wide range of hardwoods and finishes to suit your needs.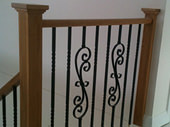 Wrought Iron
Classic wrought iron balusters complement more traditional staircases. Tough and durable, these balusters will last for long time. They can be finished in either glossy or matte coating to suit your decor.
Get in touch with us today if you need balustrades installed at your property in Melbourne. We offer our services to residential and commercial properties.